Back to Blog
Leveraging Collaboration Tools in Your Hotel
:
November 20 2022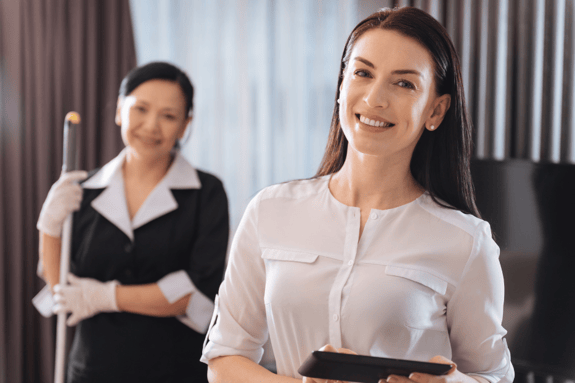 Successful hotels render services with a silky smooth, thoughtful, charming, and gentle touch that appears effortless in action and leaves customers eager for more. It gives the impression that these hotels operate flawlessly and rightly so.
However, achieving that level of efficiency requires phenomenal collaboration and communication between employees, allowing them to understand the specificity and flexibility of their roles and duties. Something not easily done. The good news is this is where collaboration tools have become a game changer.
While no single solution fixes all the issues in hotel businesses, collaboration tools appear to be the closest to such a thing as a silver bullet in the hospitality industry. Optimizing the services your hotel renders depends mainly on improving the engagement and collaboration of staff toward achieving a singular goal.
In this article, we will discuss why hotels like yours need collaboration tools and how to use collaboration tools to earn customers' loyalty to your hotel.
Why Every Hotel Needs Collaboration Tools
Collaboration in hospitality has been few and far between. But with the increasing evolution of customers' expectations and preferences, especially since the pandemic, management has begun to experience difficulty keeping up with their goal of providing a superior customer experience. Suddenly, survival now depends on the ability to adapt to customers' constantly changing needs.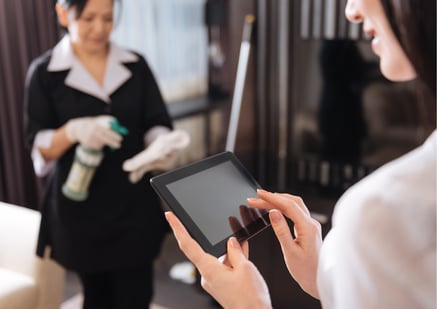 With the era of profound digitalization offering new challenges and opportunities, hotel management must realize that they need all hands on deck, operating like a well-oiled machine to inspire customer loyalty, increase revenue, and drive growth. To achieve this with competence, they need collaboration tools.
Collaboration tools ensure that staff and management are on the same page within a digital space. This is necessary to increase productivity and operational efficiency since hotels deal with heavy operations daily. Staff have different shifts and are scattered in different locations, departments, and properties, making it difficult to know what's happening at all times.
Collaboration tools offer real-time visibility of hotel operations and a way to manage and delegate, guaranteeing that no task is left unfinished, miscommunicated, or costly mistakes happen. It eliminates the sluggishness, inefficiency, and errors of traditional communication that depresses and dissatisfies hotel guests. By digitizing communication, the needs, requests, and complaints of guests reach the right ears capable of resolving them quickly.
Staff and management can catch potential issues since collaboration tools keep everyone in the loop and accountable. On top of that, it allows hotel staff to work as a team in real-time and managers to monitor hotel operations from anywhere, all day long.
In a world with increasingly high employee turnover rates and global teams, hotels will struggle and fail without the use of collaboration software.
How to Leverage Collaboration Tools for Your Hotel
The first and most crucial part of using collaboration tools is selecting the right one. There are plenty of great collaboration tools, but picking the right one requires careful thought. It doesn't have to be the perfect tool, but the ideal tool for your hotel, which entails knowing what your hotel needs.
Most collaboration tools usually show a bias to one or two functions, but the best ones will cover most, if not every, function. The functions to look for include the following:
- Task checklist to help manage daily routines and assign clear duties
- Task traceability to ensure accountability and timely completion of tasks
- Alerts and notifications to draw attention to assigned tasks, deadlines, and reports
- Reporting and analytics to help identify progressions, trends, and issues
- In-app translation to help multilingual employees collaborate effectively
- File sharing to enable the transfers of media and vital documents
- Integrated messaging ability for seamless communication among staff and also with guests
Whatever collaboration tool you decide on, ensure that it offers seamless integration with major and common devices, including mobile and tablet. It also has to be intuitive and easy to use, even for your most technologically-challenged staff member.
If you find this too much work, then get the most versatile, top-rated, and straightforward collaboration tool on the planet; Snapfix.
Your Hotel with Snapfix
Hotels of all sizes, like Premier Suites, Radisson Blu, The InterContinental Dublin, Hilton Hotels and Resorts, and The Armada Hotel, have experienced significant changes using Snapfix. Not only do they enjoy 20% more efficiency, but they also enjoy one free hour every day from it.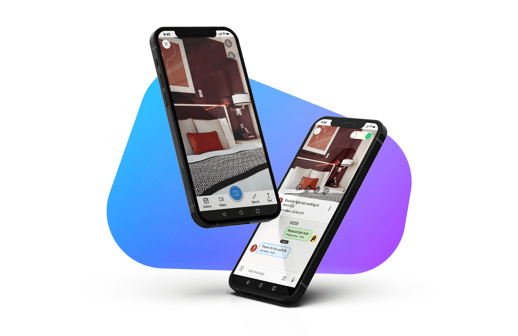 Snapfix is an all-in-one hotel maintenance platform that streamlines operations and lets you get things done. Use the universal language of videos and pictures to capture tasks, share and assign tasks to various staff, and manage them with a traffic light color system.
With Snapfix, everyone becomes the eyes and ears of your hotel, reporting issues quickly through efficient communication and ensuring their resolution using its built-in checklist and scheduler. Reporting any issue triggers an alert, and staff receives notifications initiating quick action to resolve it. Prompt response to guests' complaints, requests, and needs, leaves them satisfied with the services rendered.
Snapfix allows the progress of every task to be tracked 24/7. NFC smart tags offer a measure of accountability as it provides proof of location and confirmation of job accomplished.
The reports and analytics of Snapfix enable you to know the status of each task, piece of equipment, and safety check in real-time. It provides insight into your whole operation, no matter the number of hotels you possess. The information provided is compiled and presented in easily digestible bits that allow you to see the trends, know your hotel better, and make intelligent decisions that put smiles on the faces of guests and employees alike.
Snapfix makes it easy to keep everyone up to speed. It comes with an integrated messaging system that fathoms the sharing of ideas, improves communication, and fosters easy team collaboration. Share vital documents with staff, like the Standard Operating Procedures of the hotels and other media, so everyone knows your hotel's "how-to."
With its ease of use, your hotel can start functioning like clockwork in no time at all.
Find out more about Snapfix today by booking your demo here.