Back to Blog
Weekly Restaurant Scheduling
:
December 20 2022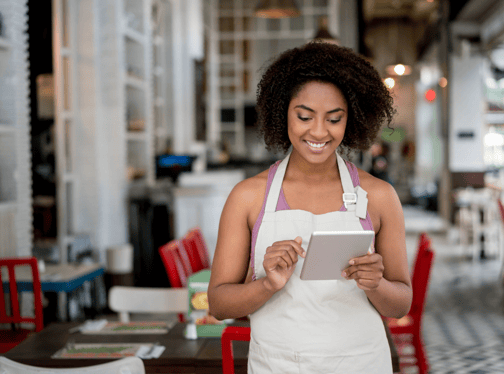 From a customer's perspective, the mark of a five-star restaurant is more than just the quality of the meal. The five-star tag should be an indicator of everything that makes up the quality of service, including the restaurant setting, meal distribution, the atmosphere of the restaurant, and the coordination among restaurant staff matter significantly.
Running a restaurant smoothly and efficiently demands a lot of attention to the core of its operation – the staff. In an industry where the competition is immense, and the margins are very slim, knowing how to organize this valuable asset plays a significant role in upsetting those margins in your favor.
Restaurant scheduling keeps your restaurant in order and efficient. When done right it keeps your staff spirited, and if handled poorly, you could lose a talented group of individuals.
This article will discuss how weekly restaurant scheduling helps to keep your kitchen staff organized and engaged.
What is Restaurant Scheduling
Restaurant scheduling is not just about matching names to a task or time slot. If it were that simple, you might as well draw names from a hat and be done for the day. But no, scheduling in a restaurant involves a calculative and meticulous effort at organizing employees' workloads on a daily, weekly, or monthly basis with the aim of increasing productivity, efficiency, and morale.
Scheduling in a restaurant is about creating an effective team and hence, requires planning, forethought, and in many cases, a little creativity. It threads a delicate balance to achieve the needs of both the front team and the invisible heroes of the back team while accounting for time-offs, sick days, and emergencies. This is key as many of your staff are most likely juggling multiple jobs and schedules.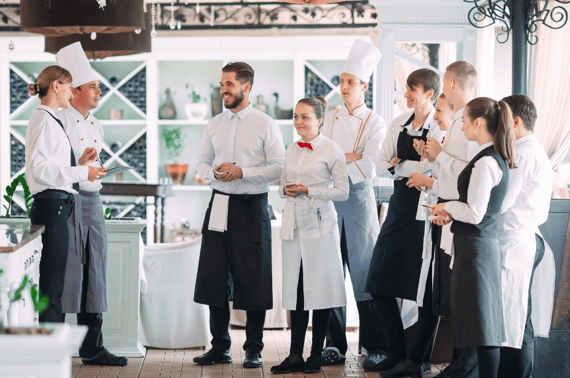 Benefits of Restaurant Scheduling
Restaurant scheduling might seem like a daunting task because of all the factors to take into consideration. But once you get the hang of it, it might surprise you how easy it is to create one that benefits your restaurant and employees.
Below are some of the benefits of restaurant scheduling
Restaurant scheduling provides restaurant staff with daily tasks, which enables them to know what to do and when to do it. It ensures that no task is left undone, ensuring that everything and everyone in the kitchen is at the right place, at the right time, and in the right conditions.
- Better and Faster Workflow
When your kitchen staff is well-organized, each task becomes easy to handle and faster to accomplish as there is no hold-up due to a task being dependent on the completion of another. Restaurant scheduling ensures a seamless approach to work, avoids redundancies, and ensures optimal kitchen staffing at all times.
With better workflow and organization, there is little to zero waste of ingredients, produce, and cutleries. Employees are no longer overworked, and potential issues are quickly identified while critical accidents are astutely avoided saving your restaurants thousands of dollars.
- Increased Employee Engagement
When restaurant scheduling is fair and consistent, it keeps employees happy. Employees won't feel like they are being treated unfairly or overworked, keeping morale high, avoiding burnouts, and increasing productivity. Thus, they are always motivated to work, which benefits your bottom line.
It is a cascading effect. More organization guarantees splendid work, which results in happier employees. Happier employees respond cheerfully, intently, and quickly to customers' needs, wants, and desires, leaving them satisfied and eager to return for more. Plus, it spruces an atmosphere contagious to customers.
How Weekly Restaurant Schedules Organize Your Restaurant
There are many ways to schedule a restaurant's activity, but the most effective is on a weekly basis. It presents the feeling of a fresh start each week and makes it easy to track staff progress, identify the positives and negatives, and adjust for it without the dreadful feeling of lost time.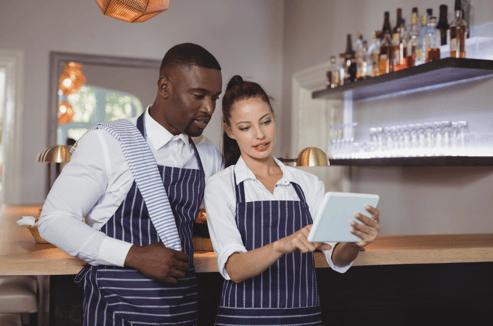 A weekly restaurant schedule is a work plan that outlines the designated tasks and assignments of restaurant staff for the total number of days within a week. These tasks and assignments include kitchen duty, cleaning, inventory, front house management, managing checklist, and every other task of the day.
As with every other restaurant schedule, weekly restaurant schedules provide solid organization for restaurant staff as their roles and duties for each day during the week are mapped. Weekly restaurant schedules offer solidity in case of emergencies. Easy recall can occur, and since the scheduling is on a weekly basis, restructuring for the following week doesn't take much time.
With 56% of restaurant staff part-timers, weekly restaurant schedules afford them the wiggle room to adapt their personal time on a weekly basis. The benefit is a balance in workload between full-time and part-time employees, keeping everyone satisfied. Regular check-in with staff by the end of the week makes adjusting the schedule for the following week full-proof.
With weekly restaurant scheduling, there is always a competent failsafe that helps retain stability without treating employees unfairly.
Simplify with Snapfix
Leveraging technology in restaurant operations greatly benefits both restaurant owners and employees. Several Restaurants and other organizations in the hospitality industry chose Snapfix over other related software to organize their day-to-day activities and help keep their staff in line with their weekly schedules.
Snapfix uses a simple but effective traffic light system to communicate the progress of projects and activities within an organization. As a restaurant owner or team lead, you can easily tag a task as completed or in progress using pictures and the traffic light system.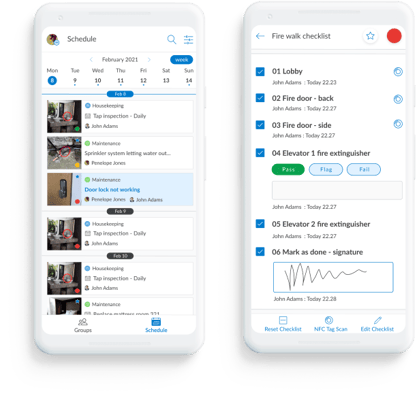 Snapfix is useful for:
1. Creating work orders

2. Carrying out planned maintenance

3. Running fire safety checks

4. Carrying out day-to-day activities using its simple but comprehensive dashboard
Many general managers praise Snapfix for helping them work in a more professional manner without being too formal. Snapfix facilitates clear communication between managers and several departments in an efficient manner.
With Snapfix, your restaurant can always be in its top form without compromising speed or quality.
Book a demo today to experience how Snapfix can help your restaurant remain competitive!
Visit the Snapfix website today to learn more about our services.