Back to Blog
The importance of "Walking the Floor" for Hotel Managers
:
June 16 2023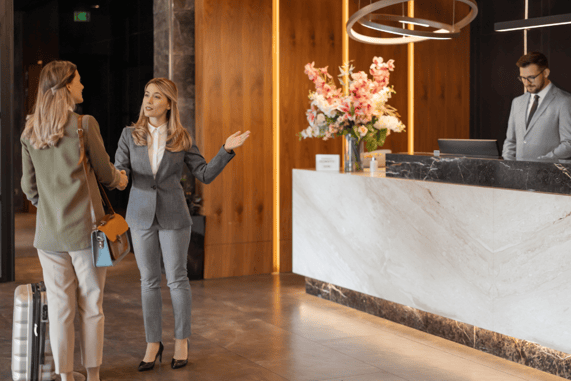 As a hotel manager, it is your responsibility to oversee various aspects of the hotel's daily operations. This may include administrative work or meeting with guests to address any concerns they may have during their stay. However, one essential practice in hotel management that is just as important as any other is "walking the floor."
Walking the floor is the practice of making time on a regular basis to find out what's really happening in your business, essentially walking around the property where your employees work to ensure the smooth running of the business as well as providing an opportunity to maintain an active presence around the property.
Here are some benefits of walking the floor for hotel managers.
1. An Opportunity to Connect with Guests
Walking the floor as a hotel manager provides you with the opportunity to interact with guests and address their concerns. It also provides an opportunity to understand guest satisfaction levels and hear firsthand any complaints or feedback which may potentially help the hotel improve its services. When guests see the hotel manager walking around the property, it gives them the impression that management is present and actively involved in ensuring their satisfaction.
2. Improves Employee Dedication and Job Satisfaction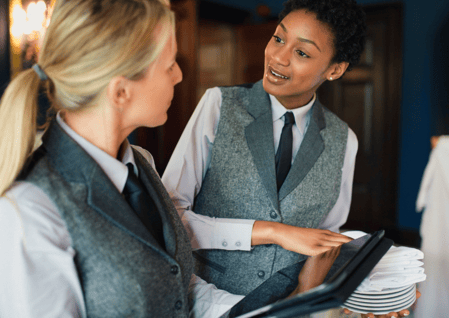 The improvement in the degree of job satisfaction and employee dedication is intrinsically related to the improvement in the degree of trust an employee has in their hospitality manager.
When employees see their manager walking around the property frequently, it provides them with a sense of support and indicates that their leaders care about their work. It also allows for a platform of open communication between management and employees. Managers who actively show concern and an eagerness to listen to employees will help build trust and improve job satisfaction and employee dedication.
3. Helps Identify Operational Problems
A hotel manager may also identify operational problems while walking the floor. For example, you may discover a system or service that requires improvement or identify malfunctioning equipment or any hazards around the property. Early detection leads to preventable measures enough to avoid future negative consequences like accidents or guest complaints.
4. Cost-Effective
Routine walks around the property don't cost you a penny, yet it yields invaluable returns for hotels. If done regularly, it offers low-cost surveillance of operations to ensure that guests' needs are met or exceeded.
Overall, walking the floor is essential for effective hotel management. Utilising this time to connect with guests and employees will not only improve customer satisfaction but also increase employee dedication and job satisfaction. As a hotel manager, taking time out of your busy schedule to conduct these checks can be overly beneficial to the growth of your business without breaking the bank.
How Snapfix can improve the efficiency of Walking the Floor
Snapfix is an invaluable tool for hotel managers when they are walking the floor. Here are just some of the ways in which Snapfix streamlines operations for hotel managers.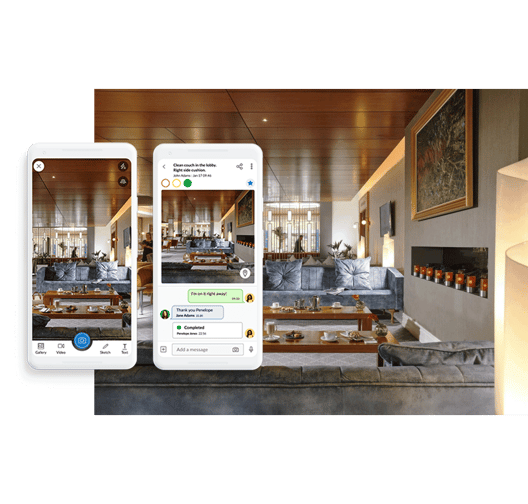 Communication between all levels of staff is crucial to business performance. Visual communication allows you to understand complex issues quicker while also helping to grab attention and build relationships. Nicky Logue, General Manager of InterContinental is a great example of this, stating that "Using photos for communication is so easy and efficient for our team".
Identifying Problems
As mentioned above, early detection leads to preventable measures and there is no method more efficient or straightforward for this than Snapfix.
Instead of noticing a problem and wasting valuable time trying to find a manager or the person needed to fix it, Snapfix makes it as easy as taking a picture of the issue which will then be shared with the rest of the team immediately.
And with the new voice-to-task feature, hotel staff can now create tasks in just three seconds, making it easier and faster than ever to get things done.
Improve Employee Engagement
By using a platform such as Snapfix which allows open communication between all members of staff, employees will be more engaged in their work as they feel that their voice is being heard and their input is being valued.
Employee engagement can improve work culture, reduce turnover in staff and improve the relationship between customers, staff and managers.
To streamline and improve your hotel team's communication, get in touch with us today to schedule a demo.