Back to Blog
Using Work Orders for Health, Safety, & Compliance
:
December 12 2022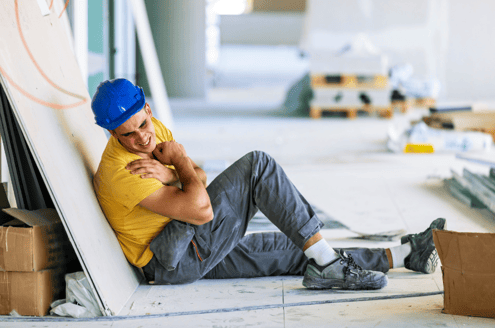 Maintenance operations are necessary for every industry since machines and assets play a crucial role in the day-to-day running of a company. Routine maintenance keeps equipment and machines safe and ensures the work environment is safe and reliable.
As a result, inadequate maintenance or lack of maintenance is a costly venture. It not only puts the company at a disadvantage but can result in a dangerous situation that puts the health and lives of employees and maintenance teams at risk.
By virtue of its nature, maintenance work is a high-risk job with specific hazards, including working alongside a running process and inevitable machine contact. While it usually involves unconventional and non-routine tasks and is often performed in exceptional conditions, many companies have failed to take precautions to minimize the risk involved.
This article will discuss the cost of workplace injuries and how work orders improve the safety, health, and compliance of maintenance teams and employees.
The Cost of Workplace Injuries
Maintenance activities expose employees and technicians to many hazards, leading to injuries. While it comes with the territory, the cost of workplace injuries is nothing to take casually.
According to a study by Colorado State University, the total direct and indirect cost of workplace injuries was a whopping 128 billion USD in 2017. In 2020, the number rose to a staggering 163.9 billion USD, with the average injury costing 44,000 USD and 1.100 USD per worker.
There is also the time lost due to injuries incurred in the workplace. In 2020, over 65,000,000 days were lost. This value did not include time lost due to further medical treatment or check-ups.
While this is telling, it is nothing compared to what employees or maintenance personnel lose due to workplace accidents.
Just as profitability is vital for a company's success, so should health and safety concerns, especially in maintenance, where professionals experience over 23,000 injuries per 100,000 workers yearly, according to a recent article.
The Role of Work Orders in Minimizing Workplace Injuries
Workplace injuries are hard to erase, but companies can have a significant impact in stopping them from happening in the first place. While Proper training and safety infrastructures play an enormous role in keeping maintenance teams safe, emphasizing the safety and health process for every task ensures that safety becomes a habit. This is where the value of better work order processes comes in.
Irrespective of the degree of injury, a better work order process reduces the risk of injury. In general, work orders contain well-documented information about a particular task, including how to tackle the task. Adding the hazards related to the job into the work order ensures that maintenance teams equip themselves with safety measures and wear personal protective equipment (PPE) for the task.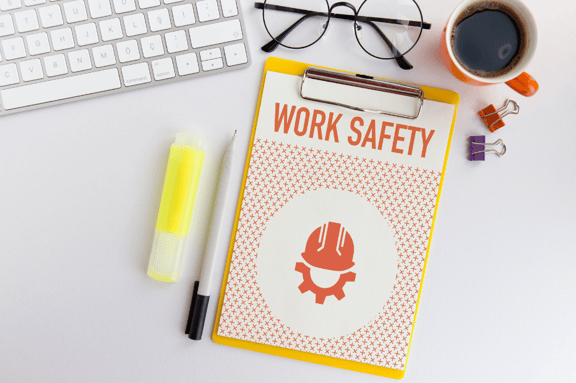 There are many ways to achieve this. However, here are three ways to protect technicians from workplace injuries using a better work order process.
- Adding Safety Instructions to Work Order
Safety should come first in any work order. Clear, detailed, and distinct instructions about the task enable maintenance teams to know what to do. Adding safety measures, including who to consult when unsure about any aspect of the job, reduces the likelihood of accidents.
- Addition of PPE to Material Bill
Including the necessary PPE for any task in the material sections of a work order ensures that the safety equipment does not go under the radar. It also helps in deciding what safety measures to invest in long-term.
- Use of Diagrams, Pictures, and Repair History
Adding pictures and diagrams labeling vital parts of machines helps technicians avoid preventable accidents due to misidentification. Dangerous mix-ups can and have led to severe workplace injuries. Also, adding repair history can assist technicians in avoiding near misses, safety concerns, and accidents since they know what to expect.
Implementing a better and more sustainable work order process creates a better maintenance culture with better habits. Once achieved, passing audits and complying with industry and government regulations becomes a natural consequence.
That said, adding a compliance plan to a work order process can be very beneficial. Doing this involves knowing what is needed and how to measure it. It makes it easier to extract the data required from work orders.
Keeping Staff & Customers Safe With Snapfix
As a facility manager or business owner, you are responsible for keeping every member of your staff and customers safe. This is where Snapfix can help.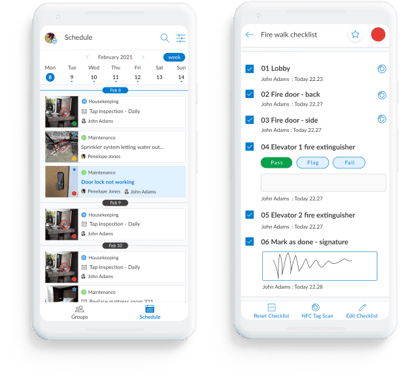 Snapfix is a CMMS software with limitless possibilities. Designed for easy use with almost no learning curve required, Snapfix allows you to manage your buildings, projects, and teams seamlessly. When it comes to work orders, maintenance, and safety, it has it all.
Get work orders rolling with a simple video or photo using your mobile phone. You can schedule, assign, organize each work order, and keep track of their progression. This way, accountability is assured from the comfort of your phone.
Snapfix allows you to include a checklist and Standard Operating Procedures (SOPs) to work orders, including notes, photos, and NFC Smart tags. There is also an option to add a mandatory signature requirement to each checklist for further security. This ensures that staff follow all safety procedures.
The resources you need to protect your employees, clients, and business are right here at your fingertips with Snapfix.
To find out more about Snapfix schedule a demo with our team here today.