Back to Blog
The Seaside Hotels Of Ireland
:
April 12 2022
Ireland has some outstanding seaside hotels, we did some research and here's a selection of the best on offer.
‍
‍Eccles Hotel & Spa - Glengarriff (Co Cork)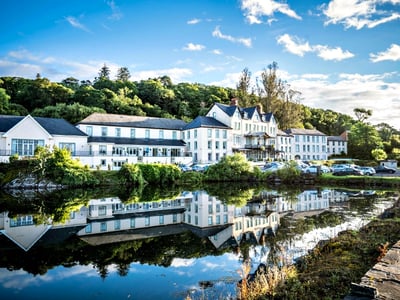 Situated on the beautiful Beara Peninsula in the small town of Glengarriff, West Cork, the Eccles Hotel & Spa has a long history, and was established in 1745 - both Oscar Wilde and WB Yates have stayed here.
‍
If you are looking for a mind and body rejuvenation experience, we recommend the Spa, especially the outdoor seaweed baths.
As well as relaxing in one of the 57 refurbished and comfortable rooms, this location is ideal for exploring West Cork and West Kerry. Don't miss the spectacular Healy Pass which is approximately 25 Kilometres from Glengarriff, it's like something from an Italian movie.
‍
Inchydoney Island Lodge & Spa - Clonakilty (Co Cork)
https://www.inchydoneyisland.com//luxury-hotel-west-cork.html
‍
The Inchydoney Island Lodge & Spa is located in West Cork and overlooks the Atlantic Ocean and a spectacular Blue Flag Beach.
‍

Although it has won awards for its hospitality and catering, the hotel is best known for its Spa Resort which offers seawater therapies, as well as more traditional Spa Treatments and Rituals. You can also enjoy the fruit & juice bar, or work out at the gym.
The hotel also has a beautiful ocean view lounge, where guests can spend time relaxing with a book or playing games with friends. Children have their own playroom, located next to the lounge.
In addition to guest rooms with balcony and sea views, the hotel also has self-catering apartments.‍


The Bay View Hotel at Ballycotton
https://www.thebayviewhotel.com/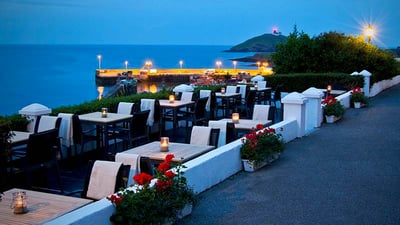 Regarded as one of the finest hotels in East Cork, the Bayview Hotel romantically overlooks miles of spectacular coastline.
This 4 Star Hotel is nestled on a cliffside in the small unspoilt fishing village of Ballycotton.
It has been restored to provide modern luxury spaces while retaining the charm of the past.
The 35 spacious bedrooms offer a peaceful place to discover all the surroundings can offer, such as the hotel's original gardens, the revitalising sea air or the traditional fishing harbour.
The hotel also offers a championship golf course, sea and river angling and hiking tours.
‍
Cliffhouse hotel - Ardmore (Co Waterford)
https://cliffhousehotel.ie/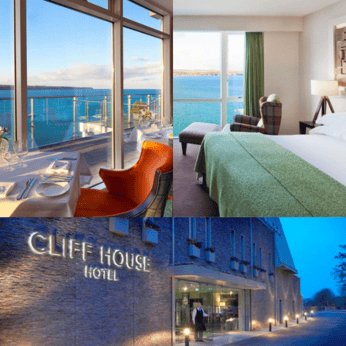 ‍
One of the finest small luxury five-star hotels in Ireland, Cliff House Hotel is a 39-room boutique hotel in the traditional fishing village of Ardmore.
Located close to Cork and Waterford, the building overlaps the south side of Ardmore Bay where there has long been a fishing village.
Guests staying at this private hotel can also relax at the spa and dine at the Michelin-star restaurant.
Would you like to stay with your family? No problem, many guest rooms are interconnected to provide family-friendly configurations.
‍
Armada Hotel - Spanish Point, Co Clare
One of our favourite hotels! Located in West Clare, the Armada Hotel has wonderful guest rooms (ask for the copper baths) with a view on to the beautiful Spanish Point Beach.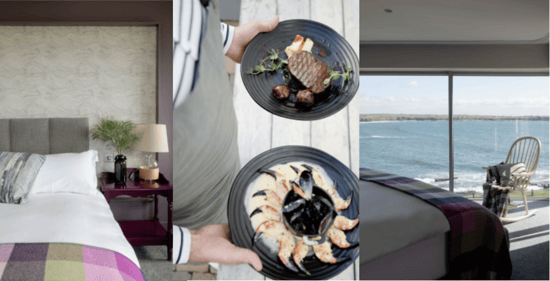 The Hotel caters for all types of stay from classic double to family rooms with sea view suites. Most furniture and accessories items have been designed by Irish designers such as Irish handwoven tweed blankets or handmade soap.
Irish artists' work are also exhibited in and around the Hotel.
To experience an idyllic moment with nature, try the Gate Lodge at the Armada Farm. This self-catering private property was built in a Victorian style in 1837 and has been restored with a new minimalistic touch while keeping its original form.
Catering is also important. The teams take the time to create innovative dishes and drinks using sustainable products and sourced as much as possible from the county and their Armada farm.
‍
‍Salthill hotel - Galway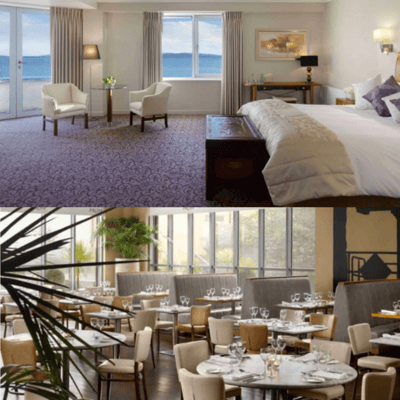 https://www.salthillhotel.com/
‍
The 4-star Salthill Hotel is located on the Salthill promenade and gives you a wonderful view of Galway Bay and the Burren Hills.
You will enjoy the walks along the sea as well as the spacious gym where daily fitness classes are scheduled.
The spa includes a 25m indoor swimming pool, an 18m hydrotherapy pool, a whirlpool, sauna and steam room.
Salthill Hotel also has its own cosy restaurant and lounge bar which serves Irish breakfast in the morning and also healthy dishes, light bites, cocktails and a 3-course menu throughout.
‍
Galway Bay Hotel - Salthill, Galway
https://www.hodsonbaygroup.com/galway-bay-hotel/
‍
The 4-star Galway Bay Hotel situated on Galway Bay's promenade at only 5 minutes from the city centre, is the ideal place to delight beach walks and go out at night.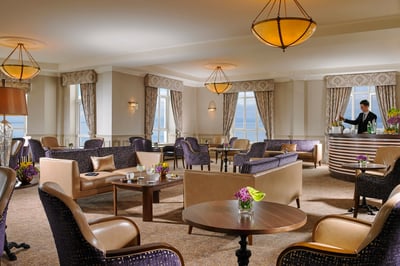 Galway Bay Hotel is also dedicated to business travel. 5 conferring suites are available and the conference team is always ready to help organisations to organise meetings.
In addition, the Hotel also has a beautiful leisure centre and spa including a 15-metre heated swimming pool, bubble pool and massage fountain. If you want to do sport, the centre hosts a well-equipped gym.
Finally, different catering options are provided. For the Bay Brasserie, the Chef has created menus using the best locally sourced produce.
‍
Renvyle House Hotel and Resort - Renvyle (Co Galway)
https://www.renvyle.com/en/the-hotel/
‍
Since becoming a country house hotel in 1883, Renvyle House has played host to many famous people, including Yeats and Churchill. These days it's still a great base for exploring the wilds of Connemara.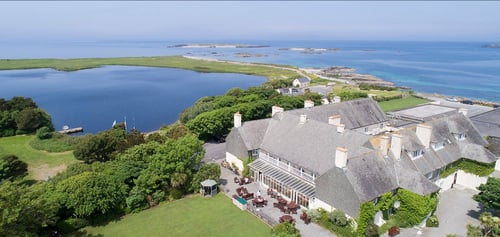 The hotel is located on a 150 acre estate that includes a private lake, 1 km of sea beach, gardens and woodlands.
Take a dip in the heated outdoor pool.
Ask for a room with a Connemara Marble bathroom.
‍
‍Kelly's Resort Spa & Hotel, Rosslare, Co. Wexford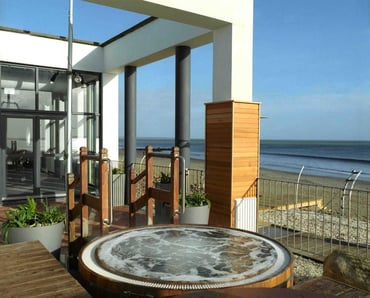 ‍
Another place for relaxation is the Kelly's Resort Hotel and Spa. With a strong reputation in hospitality, it has been run by 5 generations for the last 126 years.
The Hotel is uniquely situated as it's surrounded by 5 miles of golden beach..
The Spa offers sea seawater vitality pool & signature treatments.
Kelly's Hotel has its own award-winning Beaches Restaurant. The menus regularly change and nightly entertainment often takes place in the Ivy room.
‍
‍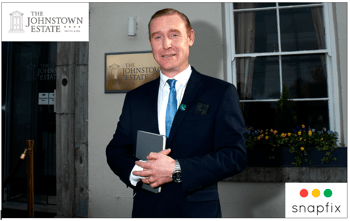 To learn more about how Snapfix can help your team, check out our case study on The Johnstown Estate here.
Booking a demo is easy, contact our team here.
Leave a comment